26/08/2007
A la mémoire de Jim Walker
Quand mon ancien prof d'histoire, M. Patrick Dalmaz, m'a raconté l'histoire de James Walker, j'ai été touché. Emu d'autant plus par ce qui se préparait depuis un an. Après tant de recherches et d'efforts, lui et sa femme Béatrice, allait recevoir la famille du pilote pour une cérémonie officielle - pour la reconnaissance de cet acte héroïque, celui d'avoir sauvé un village au prix de sa propre vie. Les événements remontent à 1960.
Alors, quand il m'a demandé de venir faire le traducteur, je n'ai pas hésité une seule seconde. Et maintenant que tout est fini, je peux dire que l'expérience que j'ai vécue dépasse toutes mes attentes et restera gravée à jamais dans mon coeur.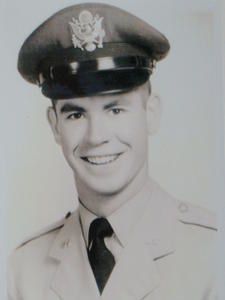 Jeudi 23, les proches du pilote ont débarqué à Lyon. Ils ont logé dans des familles à Saint Jean de Niost, ils se sont rendus sur les lieux du crash, ils ont visité Lyon et Pérouges, ils ont mangé français, ils ont été accueillis dans le château d'un marquis... Moi, dans tout ça, je courais dans tous les sens, pour traduire, pour faciliter la communication entre des villageois qui ne connaissaient que quelques mots d'anglais et des Etatsuniens qui ne parlaient que quelques mots de français. Et j'ai appris à connaître cette famille, pour la première fois réunie dans un petit village de France. J'ai été touché par la veuve du pilote, je suis tombé sous le charme des filles et des nièces, des soeurs du pilote et j'ai sympathisé avec ses petits-enfants.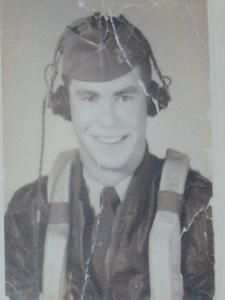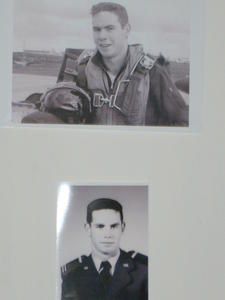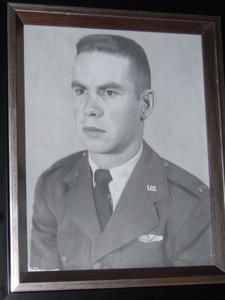 En l'espace de quelques jours, un échange incroyable s'est produit et c'est comme si Jim Walker et l'ensemble de ses proches faisaient partie de moi, comme si on était de la même famille. A la cérémonie, pendant les discours des proches, de mon profs et des officiels, j'ai senti les larmes me monter aux yeux et mon coeur se serrer. Quelque chose s'était passé, une famille venait de (re)naître et c'est comme si je les connaissais tous depuis longtemps. Tout s'est passé comme si j'avais connu Jim, comme si tout venait de se produire.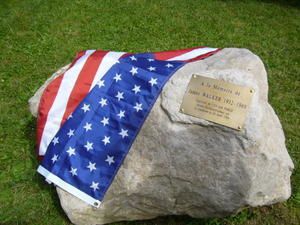 Il a fallu pourtant attendre 47 ans pour que cette famille - à laquelle j'ai désormais l'impression d'appartenir - puisse enfin faire son deuil.
Lors du départ, les bras se sont serrés très fort et les coeurs ont battu plus vite que de coutume; les yeux brillaient de larmes. Tristesse de se quitter; joie d'avoir rencontré l'humanité.
Jim, puisses-tu reposer en paix et merci pour tout.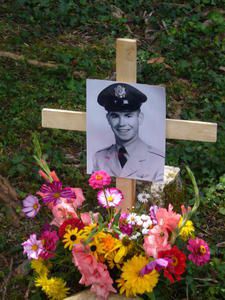 A mes nouveaux amis, Dana, Kim, Kathy, Dustin, Jeff, Shelly, Renée, Conny et tous les autres, on se revoit à Houston dans quelques mois ;)
Voici le reportage diffusé en national sur France 3, suivi du documentaire réalisé par l'US Air Force:

Pilot's Family Finally Finds Peace
By JESSIE MILLIGAN
Fort Worth Star-Telegram

FORT WORTH, Texas (AP) — In a blur of seconds, the Air Force pilot wrestled with the failing controls of the military jet as he struggled with the fast-approaching future.

Below him lay a rural French village. The split-second choices that Capt. Jim Walker made that day in 1960 would resonate through the decades.

For 47 years, his family would imagine this dilemma: Eject, and the jet could crash into homes. Stay in the pilot's seat, and maybe he could guide the jet away from the farmers' houses below.

It would take more than four decades, a kindhearted man in France, the efforts of American Airlines and a release of information from archives to finally bring peace to the Texas family who waited behind.

———

Aug. 22, 1960, began calm and clear in Saint-Jean-de-Niost, a village east of Lyon in the Rhone-Alpes region of southeast France. Twelve-year-old Patrick Dalmaz followed his grandfather, a grocer, on regular rounds to buy eggs and poultry from village farmers. Just after 12:30 p.m., a thunderous noise boomed overhead.

Patrick was riveted. He would run to the front gate of his home every time he heard so much as a tractor engine. But this! A jet with stars on its wings was skimming over the roofs of homes. As it passed, its engine appeared to start and stop, at times sending the aircraft swirling like a dead leaf in a high wind.

Patrick watched as the F-102 Delta Dagger crashed into an abandoned vineyard about 300 yards from the village.

"I can't believe my eyes. I am shaking all over. It is just like in the strip cartoons that they buy me at the market on Wednesdays!" Patrick recalls thinking.

The boy ran toward the flames and smoke, arriving at the crash site before police and firefighters. Emergency workers found Patrick standing transfixed in front of the pilot's remains.

Farther north, at Hahn Air Base near Wiesbaden, Germany, Dana Walker, 23, waited at home for her husband, Capt. William James Walker, 27. Everyone knew him as Jim.

———

One day in 1953, while stationed at Houston's Ellington Air Force Base, Jim Walker strolled into a Foley's department store and was instantly smitten with the pretty clerk with dark auburn hair and blue-gray eyes. That was Dana.

In 1955, the young man from an Iowa farm and the girl raised in Lufkin were married. Four years later, Jim Walker was transferred, and the young family moved to Hahn Air Base.

In the summer of 1960, Walker and the 496th Fighter Interceptor squadron received orders to head to an air base in Tripoli, Libya, for training.

A few days before leaving, Walker filled out the standard next-of-kin form and listed his wife, Dana Ann Walker; his daughters, Kathryn Lynn, 4; and Kimberly Kay, 3; and son, William James Jr., 3 months.

And then he left on the mission, leaving a family that would wait a long time to know why he didn't come home.

On the way home from Libya, Walker and his wingman stopped over in Italy, then headed back toward Germany.

"The airplane did not break up upon falling," reported a Catholic priest who had witnessed the accident and given the pilot last rites. He wrote to Dana afterward to describe what he saw. "Rather, it alighted, giving the impression that your husband until the last moment tried in vain to pull out of the crash."

A year later, Walker would be awarded the Distinguished Flying Cross, a medal given to only the most heroic of military pilots.
The story was only beginning for his family.

———

Within 48 hours of the crash, the Air Force sent Dana and her three children back to Dana's parents' home in Deer Park, outside Houston.

She was reeling, breathless with grief and confusion. Little information about the crash was provided by the Air Force, and the questions about it were still unformed in her mind.

She'd been told he was a hero. Through the fog of grief, she thought she'd heard that he'd decided not to eject so that he could guide the plane away from the village. Not eject? It seemed impossible he'd make that choice.

After the crash, the Air Force returned the watch he was wearing at the time of the accident.

Dana took the watch to a jeweler, who repaired it and then commented that it seemed impossible for a watch to go through such a horrible accident and still work.

That put a question in her mind. Had the Air Force told her the truth? Was there really an accident in which her husband chose to save a village instead of living and returning to his family?

The grief lingered through the years.

Her daughter, Kim, now Kim Christoforo, 50, of south Arlington, grew up barely remembering her father, yet feeling closely connected to him.

"I am so proud of my father," Christoforo says. "Dad was this god, this perfect person. We idolized him."

In her 20s, she began to have questions as well. Something powerful must have kept him from his family.

Jim Walker had, after all, been lost during the Cold War.

"I thought maybe he'd gone over Russia and his plane had gone down. I thought maybe it was a secret spy mission," Kim says.

———

The French boy who witnessed the crash grew up to become the historian for the village of Saint-Jean-de-Niost.

One day last year, Patrick Dalmaz was going through town records when he came across a report of the crash. It was then that he and the people of Saint-Jean-de-Niost decided to dedicate the town square to the American pilot who saved the village. There would be a plaque, a ceremony.

Dalmaz contacted the French consul in Iowa, who, by locating an obituary in the Anita (Iowa) Tribune, found the pilot's family.

Would they come to the memorial to Jim Walker on Aug. 26, 2007?

Christoforo was ecstatic about the ceremony.

"It will honor him," she says. "And maybe we'll get some closure here."
Christoforo told her friends and co-workers. No one could figure out how to get a dozen members of the Walker family to France. It would cost $20,000 for airfare alone.

A receptionist at Rattikin Title Co. where Christoforo works, contacted someone at American Airlines. Could the airline help?

American Airlines agreed to fly 12 family members to France and back for free.
"It's simply we have the ability to help and it's the right thing to do," Capt. Steve Blankenship, managing director of Veterans Initiatives for American Airlines, said in a written response. His office arranged the trips. It also arranges free flights for Medal of Honor winners and other services for veterans.

The ceremony in France caused the family to discuss the crash again. They asked more questions. Why didn't he eject?

They got an answer.

In response to a Star-Telegram request, the Freedom of Information officer for the Air Force Safety Center in Albuquerque provided the official accident report in late July.

It revealed this:

Jim Walker had tried to eject. Evidence found on the crashed jet indicated that the ejection system malfunctioned. He had tried to save his life and return to the family that loved him.

And this:

Jim Walker was a hero who saved a village.

"Witness statements and general conversation around the crashed aircraft confirm the fact that the pilot in his last moment of flight, purposely slid his aircraft away from the village of Saint-Jean-de-Niost," the report concluded.

Jim Walker had done both of the things that mattered.

"That is good to know," Dana said when she heard the news. "I just couldn't believe that if he had a choice to make, I couldn't believe he wouldn't have chosen us."

Dana, now Dana Brinson, 70, of New Braunfels is going to the ceremony. None of the family has ever visited the crash site.

Christoforo and her sister Kathy McMillen of Nacogdoches are going as well. Their brother, William James Walker Jr., died in a pickup accident in East Texas when he was 18.

Christoforo's daughters, Kayna Duke and Kedra Hanson, will be going to France as well. So will her son, Dustin Hanson, who joined the Air Force, then left to attend the University of Texas at Austin. He plans to join again.

The trip to France will be a celebration and a funeral.

"It gives us validation and closure, and he is being recognized for not being there with us when we were growing up," Kim says of her father, the invisible hero who is always by her side.